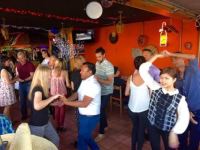 Address
989 Richards St. Vancouver BC Canada
Location:
Vancouver, Canada
Styles Offered
Bachata, Cuban-Salsa, Salsa
More Information

https://www.facebook.com/groups/salsaatpepitas/

647-838-4007
Social Media

Class Information
Learn the basic steps and moves of Salsa, Bachata and Merengue, have great time, and socialize in our friendly casual atmosphere! Message me for time / dates.
What you will Learn/Get:
• How to listen to Latin music and follow the beat (dance rhythm)
• Basic steps and footwork
• Basic dance combinations including turns, spins and styling
Who this Class is for:
• No experience needed
• No age limit
• Everybody is welcome!
• No partner required
Risks and Warnings:
When you arrive, let the Instructor know if you have any injuries or health conditions.
Contact Latin Dance Lessons & Socials in Yaletown
More Classes Near Here
927 Granville St, Poultney, VT 05764, USA

Bachata, Cha-Cha, Mambo, Salsa

Want to have a great time learning Latin dancing? Salsa and Bachata are the most popular Latin dances in Vancouver. Our head instructor makes the lessons Fun and EASY to learn. All lessons are progressive so you can build on what you learn from previous weeks. He reviews all his lessons and also provides the most popular dance socials so you can practice for FREE right after the classes. Our lessons are all about Fun, EASY and social so join us and transform your life into an exciting dance worldREGISTER TODAY!!! www.Salsastudio.net