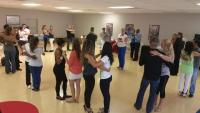 Address
hype dance studio, 6671 Lake Worth Rd Ste B, Lake Worth, West Palm Beach, Florida 33467
Styles Offered
Kizomba
Class Information
WEEKLY KIZOMBA CLASSES
by Tatiana Habanova (Kizomba Fever)
Every Sunday - Starting March 5th from 3-4pm
Open to EVERYONE! No experience necessary
✔︎ Want to LEARN HOW TO DANCE KIZOMBA
✔︎ Want to DEEPEN your FOUNDATION LEVEL SKILLS
You will learn:
1) Kizomba Steps
2) The Kizomba Walk
3) Kizomba Body Movement
4) Kizomba Timing
5) The Kizomba Embrace
6) Kizomba Choreography
7) and more...
Drop in: $10/class
(cash only)
*************************************************************************
No partner is needed, but we encourage EVERYONE to bring a male dance friend so there will be a more equal male : female ratio. We rotate partners frequently during the class.
A GREAT WAY to speed up your learning process is to schedule PRIVATE LESSONS with us!! Call us directly at (561) 204-5393
To truly enjoy this popular dance, it is important to master the foundational steps, the unique techniques of lead/follow, connection, pivots, saidas, body movement and timing as well as musicality.
We want you to CONFIDENTLY DANCE KIZOMBA socially.
If you any questions, just call me at (561) 204-5393
Contact School
Social Media

More Classes Near Here
2325 Galiano St. Coral Gables, FL 33134

Bachata, Cuban-Salsa, Salsa

Join Kings Dance Company members for fun dance lessons at Open Stage Club! For more information, visit our website at: KingsDanceAlliance.com. See you o...
501 Lincoln Road, Miami Beach, FL, United States

Bachata, Salsa

Want to learn how to Salsa? Join us at Salsa Fever! The best place to learn how to dance Salsa in Miami. Our classes are every Wednesday and Friday startin...
1405 Southwest 107 Avenue, Miami, FL, United States

Bachata, Cha-Cha, Cuban-Salsa, Kizomba, Mambo, Salsa

Salsa Lovers is one of Miami's first dance studios to offer Salsa classes in a structured, easy to understand level system that simplifies the learning pro...
16117 Biscayne Blvd, North Miami, FL United States 33160
Bachata, Salsa
UV Latin Dance Academy offers the best in Salsa and Bachata instruction from World Champion dancers Uriel Garcia and Vera Rowe. The dance academy is a prog...