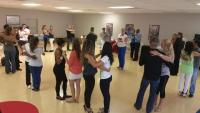 Address
11420 Fortune Circle building I Suite 7 Wellington, Florida, FL 33414
Styles Offered
Kizomba
Class Information
WEEKLY KIZOMBA CLASSES
by Tatiana Habanova (Kizomba Fever)
Every Sunday - Starting March 5th from 3-4pm
Open to EVERYONE! No experience necessary
✔︎ Want to LEARN HOW TO DANCE KIZOMBA
✔︎ Want to DEEPEN your FOUNDATION LEVEL SKILLS
You will learn:
1) Kizomba Steps
2) The Kizomba Walk
3) Kizomba Body Movement
4) Kizomba Timing
5) The Kizomba Embrace
6) Kizomba Choreography
7) and more...
Drop in: $10/class
(cash only)
*************************************************************************
No partner is needed, but we encourage EVERYONE to bring a male dance friend so there will be a more equal male : female ratio. We rotate partners frequently during the class.
A GREAT WAY to speed up your learning process is to schedule PRIVATE LESSONS with us!! Call us directly at (561) 204-5393
To truly enjoy this popular dance, it is important to master the foundational steps, the unique techniques of lead/follow, connection, pivots, saidas, body movement and timing as well as musicality.
We want you to CONFIDENTLY DANCE KIZOMBA socially.
If you any questions, just call me at (561) 204-5393
Contact KIZOMBA FEVER
More Information

(561) 204-5393
Social Media

More Classes Near Here
16117 Biscayne Blvd, North Miami, FL United States 33160
Bachata, Salsa
UV Latin Dance Academy offers the best in Salsa and Bachata instruction from World Champion dancers Uriel Garcia and Vera Rowe. The dance academy is a prog...
6208 SW 8th St, West Miami, FL 33144, USA

Bachata, Cha-Cha, Salsa

Dance with us! Salsa on1 and on2 dance lessons on1 in Miami, Florida presented by renowned Salsero Al 'Liquid Silver' Espinoza.
930 Washington ave suite 211 Miami Beach

Bachata, Cuban-Salsa, Mambo, Salsa

Salsa Central offers Salsa and Bachata group and private classes, every day of the week, from beginner level all the way to advance.Salsa Central Studi...