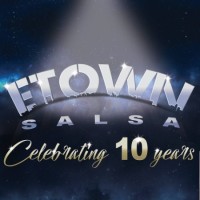 Address
10923 101 Street Northwest
Location:
Edmonton, Canada
Styles Offered
Bachata, Cha-Cha, Cuban-Salsa, Mambo, Merengue, Salsa, Samba, Tango
More Information

http://www.etownsalsa.com/

780-906-7939

Timetable
Social Media




Class Information
For its business , from private lessons to group lessons, from wedding stagettes to wedding dances, from tots to seniors, from Bachata classes to Cardio Salsa classes, ETOWN SALSA has a wide demographic that caters to latin music lovers, dancers and non-dancers! Salsa is not the only dance that has people moving but many other dances such as Bachata, Merengue, Chacha, Mambo and new emerging line dances like Bachataton, and Merengueton. Classes in these line dances are now offered through the ZUMBA Fitness classes already very popular around the globe! In addition, the company also has its own performance team meant to inspire anybody to dance. So if you want to take your Salsa to the next level, we've been there and know what it takes to challenge yourself to perform at a professional level in Salsa.
Contact ETOWN SALSA DANCE STUDIO
More Classes Near Here