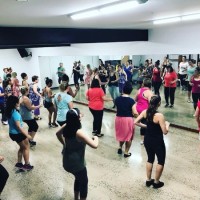 Address
13/1 Caryota Court, Coconut Grove NT, Australia
Location:
Darwin, Australia
Styles Offered
Samba
More Information

https://www.facebook.com/EspiritodoSamba/

Timetable
Social Media


Class Information
(Formerly Brazilian Samba Darwin) Have fun, get fit and feel empowered through this high energy style. Classes to suit all levels from Beginners through to Performance Training. Your instructor Erin has a strong focus on celebrating your individuality and empowering you to be confident in you abilities.
Contact Espirito Do Samba
More Classes Near Here
Vivaz Dance Shoes
Exclusive Discount
VIEW DEAL
- Get $15 OFF your next purchase
Shipped from Australia. 30 day money-back guarantee.