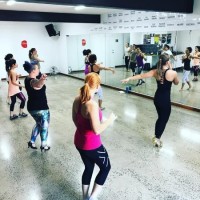 Address
Location:
Adelaide, Australia
Styles Offered
Samba
More Information

https://www.facebook.com/EspiritodoSamba/
Social Media


Class Information
Have fun, get fit and feel empowered through this high energy style. Classes to suit all levels from Beginners through to Performance Training. Your instructor Erin has a strong focus on celebrating your individuality and empowering you to be confident in you abilities.
With a passion for Latin and Brazilian music and dance, Erin strives to build an inclusive community of diverse individuals fostering a love of movement and promoting love of self. After 4 years experience teaching salsa and bachata, Erin's school Brazilian Samba Darwin opened its doors in June 2017 and has since seen the development of a professional performance group and over 180 students at workshops and weekly classes. With corporate gigs and weddings performances across Darwin including Rorkes' Carnival, Spain Place Fiesta, Channel 7 Darwin and the 2019 Darwin Star Ball, Erin and her students endeavour to share the power and self confidence that samba has brought them.
In January 2019 Espirito do Samba was created to continue community development through dance with classes in both Darwin and Adelaide.
Contact Espirito Do Samba
More Classes Near Here
Vivaz Dance Shoes
Exclusive Discount
VIEW DEAL
- Get $15 OFF your next purchase
Shipped from Australia. 30 day money-back guarantee.