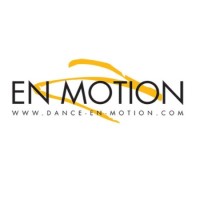 Address
Grange Road, Cineleisure Orchard, Singapore
Styles Offered
Bachata, Cuban-Salsa, Mambo, Salsa
More Information

https://dance-en-motion.com

91597811

Timetable
Social Media



Class Information
EN MOTION DANCE SCHOOL was formed in 2004 by a fun and dynamic group of dance enthusiasts who share the same zeal and love for dancing to adults and kids alike. An award-winning street Latin dance academy, we aim to bring to you a brand new experience in learning dancing by offering the list of classes below:
• LA Salsa
• Bachata
• Mambo
• Afro Cuban body movement
Well-known for its focus on teaching fundamental body movement in Latin dancing, En Motion has built a strong reputation for training our students to execute smooth and groovy basic movements and steps.
Emphasizing the importance of basic and fundamentals, All En Motion's classes are taught in professional dance studios by well-trained and experienced instructors who can assist any new students to correct their fundamental mistakes from start.
In En Motion, we believe firmly in teaching and dancing for the passion of the Dance. Our aim is to make every single student enjoy the beauty of Dance.
If you are looking for the first step to kick start your dancing life, En Motion is the place for you to experience FUN and EXCITEMENT through our Dance courses
Let Our Body Be En Motion.
Contact En Motion Dance School
More Classes Near Here