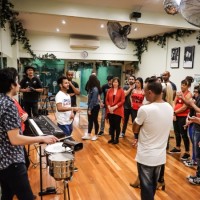 Address
Level 1, 823 Burke Road, Camberwell
Location:
Melbourne, Australia
Styles Offered
Bachata, Cha-Cha, Cuban-Salsa, Mambo, Merengue, Salsa, Tango
More Information

http://danzarlatino.com.au/

+61398828233

Timetable
Social Media



Class Information
A dance school that takes you to a level you didn't know you had!
Imagine you could be moving to music, learning a new skill, getting fit and expanding your social network all at the same time… Salsa and Bachata dancing allows you to achieve all of this at once and own a skill to be proud of!
At Danzar Latino, we offer classes that use one of the most advanced teaching methodologies in the industry to deliver authentic Latin dance classes in:
Cuban Salsa (Casino)
Afro-Cuban (Rumba, Orishas, Palo Monte etc)
Colombian Salsa (Caleña/Cali Style)
LA Salsa (On 1)
NY Mambo (On 2)
Bachata (Moderna & Dominican)
Reggaeton & Body Isolations
Not only will you learn from expert teachers who have travelled numerous times to Colombia, Cuba and Africa, you will become part of a warm social community, feel a sense of achievement, and have a HUGE amount of fun!
Contact Danzar Latino
More Classes Near Here
Bachata, Salsa, Tango

Wednesday 8 to 9:30 pm: Salsa Los Angeles style. Open levels. Saturday 1 pm:Bachata (Open level) - 2 pm:Salsa Los Angeles style. Open levels. - 3 pm: Tango open level - 4 pm: Tango Intermediate
480C Glen Huntly Rd, Elsternwick VIC 3185, Australia
218 Glen Huntly Rd, Elsternwick VIC 3185

Bachata, Cha-Cha, Cuban-Salsa, Kizomba, Salsa, Samba, Tango

Destine dance covers many styles of partner dance. We encourage you to try all of them, but, we also realise that dance is for you. Therefore, we can accommodate you as much as is possible to give you want you want, which we also know can change. Because we want it to be about you, and we are ready to help you get what you want, Destine Dance is the perfect place for you to learn dance. You can come for private lessons to really accelerate your learning or you can start with our group lessons for a fun a and social entrance into dance.
936 North Road, East Bentleigh, 3165

Bachata, Ballroom, Cha-Cha, DanceSport, Salsa, Samba, Zouk

The home of State, National & World Champions. Salsa, Bachata, Zouk & Latin
The Secret Garden of Dance

Dance Tuition in Bachata, Kizomba and Cuban Salsa
Vivaz Dance Shoes
Exclusive Discount
VIEW DEAL
- Get $15 OFF your next purchase
Shipped from Australia. 30 day money-back guarantee.