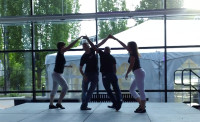 Address
7981 SE 17th Ave, Portland, OR 97202
Styles Offered
Cuban-Salsa
More Information

http://bit.ly/sorhome

415-341-4415
Social Media


Class Information
Casino can be danced one-on-one (partner danced), or it can be danced as a group.
The group form is called Rueda de Casino (Rueda for short); this is what the class will focus on, as many of the calls in the Rueda can be led one-on-one.
You will learn:
Basic footwork
Rhythm
Calls and partner exchanges that are common in most areas of the world
This 4-week series repeats every month!
---
For those with previous experience in Casino and Rueda de Casino, we'll delve more into the partnering aspect of Casino, as well as get into more complicated vueltas (turns) and calls.
Here's what we'll cover in this class:
*Refine what you've learned in my previous classes
*Basics of leading and following
*Introduction to higher-level turns and group calls
*Introduction to more group moves you probably haven't seen yet
*No partner necessary
This 4-week series repeats every month.
Contact Dance with Joy Studio
More Classes Near Here