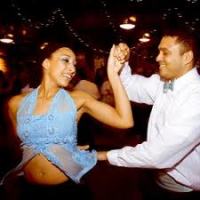 Address
159 20th Street, Brooklyn, NY 11232, United States
Location:
New York City, USA
Styles Offered
Bachata, Cha-Cha, Cuban-Salsa, Salsa
Class Information
Salsa Dance Classes in Brooklyn at Dance Fever Studios for FREE on Saturday nights. All are welcome. No partner or experience needed. Meet new people and make new friends as you learn the art and skill of salsa dancing in Brooklyn at Dance Fever Studios. Salsa dancing is fun, creative and a great way to get in shape and stay in shape. Dance Fever Studios is the best salsa dance school in Brooklyn with two Brooklyn locations. Group salsa dance lessons and private salsa dance classes taught daily. All levels. From beginner salsa dance classes to advanced salsa dance classes. Stop sitting on the sidelines and start salsa dancing at Dance Fever Studios.
Contact School
Social Media



More Classes Near Here
126 East 13th Street, New York, NY, United States
Salsa
Whether you're learning your first basic or have been burning up the dance floor for years, we have something for you. Our dancers are amongst the worldâ...
520 8th Ave, New York, NY 10018, USA

Bachata

Best Sensual Bachata class in town
100 Main Street Nyack N.Y.

Salsa

Get ready to dance the night away!!! 8-12midnight @ Karma Bar & Lounge (100 Main Street, Nyack, NY)!! Couples or singles are always welcome! 8-9pm All levels salsa lesson by Karen & Eric!!! 9-11pm DJ will be getting us ready to do it right is with the greatest mix of salsa, bachata, merengue, etc!!! Free parking till 11pm Get a table near the action...No cover just 2 drinks or dinner minimum....kitchen open late!!!
475 - 41st Street, Brooklyn, NY

Bachata, Cha-Cha, Mambo, Salsa

This studio is the Complete Package in all your Dance and every day life needs; Tropical Image is the Home of 'Brooklyn's Mambo Queen / Magic Feet' and is backed with over 15 years experience…