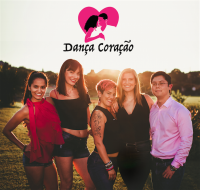 Address
2311 S Congress St, Austin, Texas 78704
Styles Offered
Kizomba
More Information

https://www.facebook.com/DancaCoracao.kiz/

5125228067
Social Media


Class Information
Join Dança Coração at Inspired Movement Dance Studio (2311 S. Congress) every Wednesday night and learn to dance Kizomba, Semba, Tarraxinha & Urban Kiz with us! With our unique format & team of instructors (Robbie, Sarita, Alex, Starsky, and Dan) all classes are catered to guarantee your growth & understanding of these dances no matter your experience level! We will divide up into smaller groups based on level, so dancers anywhere from brand-new beginner to advanced are all invited to both classes!
8:30-9:30pm - UrbanKiz (multi-level class)
9:30-10:30pm - Kizomba & Semba (multi-level class)
10:30-11:30am - practica/social = Open to students & community!
Why learn Kizomba with us? We are very passionate about this beautiful dance and culture, and can't wait to share it with you too! We proudly teach 'authentic' Kizomba, Urban Kiz, Semba, Tarraxinha, and AfroHouse, so stick around and learn how to gracefully and skillfully adapt your dancing to a variety of music, styles and partners! Come try us out! No partner needed! Plenty of free parking.
Prices: $15 drop-in, $40 4-class pass, or $70 4:night/8-class pass
Social only $5; free with lesson attendance.
Dance with us in the studio with the lights down after class and practice what you've learned to a variety of music: Kizomba, Semba, Ghetto Zouk, Instrumentals, Kiz remixes, Tarraxinha, Zouk.
Questions about Kizomba in Austin? Want more? We are also available for private and small group lessons. Message Dança Coração directly on Facebook: https://www.facebook.com/DancaCoracao.kiz
Contact Kizomba classes with Dança Coração
More Classes Near Here