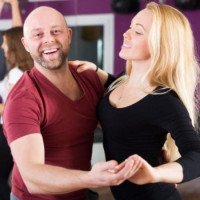 Address
2052 Moggill Road, Kenmore QLD, Australia
Location:
Brisbane, Australia
Styles Offered
Bachata, Bolero, Cha-Cha, Forro, Merengue, Salsa, Tango
More Information

https://www.boogiecamp.com.au/

0415 818 983

Timetable
Social Media


Class Information
Welcome to BoogieCamp, where you can learn to dance - with your partner or on your own - in a relaxed, social and fun environment, where the instructor welcomes you by name. We're a Brisbane-based dance studio offering Latin dance and fitness classes.
1. Couples Latin Dance Courses: Dancing together is a lovely way for you to connect with your partner and add more spark to your relationship! Enjoy a weekly dancing date night in a Couples Latin Dance course, where there is no changing of partners! ​You'll be able to quickly build your confidence on the dance floor as you dance with someone you know and are comfortable with! We specialise in beginner couples.
2. BoogieFit Solo Latin Dance Classes: Get boogie-licious with real Latin dance moves from Salsa, Bachata, Cha Cha and more! Get into the Latin groove without the need for a partner as you learn Latin dance steps and choreography to challenge both your mind and your body. No need to wait around to find a dance partner because you'll be dancing on your own. Just bring yourself and discover the Latin rhythms. This is an open-level class and beginners are welcome.
Contact BoogieCamp
More Classes Near Here
163 Boundary St, West End, Q 4101

Bachata, Bolero, Cuban-Salsa, Forro, Gafieira, Kizomba, Merengue, Salsa, Samba, Tango, Zouk

Rio Rhythmics offers a unique Latin dance curriculum starting with Latin Dance Starter where you unlock the basics of 6 of the most popular styles in just 6 weeks. From there you can continue onto the full Foundation program which encompasses 8 different styles. Other Starter programs include, Samba, Tango and Cuban Salsa Starter courses.
17 Gibbon Street, Woolloongabba
197 Boundary Street, West End

Kizomba

Kizomba and Semba is our passion!
Vivaz Dance Shoes
Exclusive Discount
VIEW DEAL
- Get $15 OFF your next purchase
Shipped from Australia. 30 day money-back guarantee.