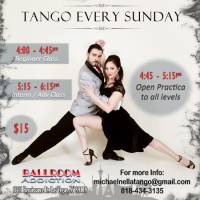 Address
2301 Renaissance Drive, Las Vegas, Nevada, États-Unis
Styles Offered
Tango
More Information

8184343135
Social Media



Class Information
Every Sunday full of tango with Michael & Nella!
New topic every week. And includes a practice time as well.
- Argentine tango class beginners 4pm - 4:45pm
- Practica 4:45pm - 5:15pm
- Argentine tango class Int/Adv 5:15pm - 6:15pm
***No partner needed!!!
In classes with Michael & Nella, taste the real Argentine Tango and explore the connection like you never had before. Discover why so many people are addicted to tango.
Our goal is to spread our love for Argentine tango in Las Vegas. We have classes every Sunday and a practice time (practica).
Come experience the most beautiful partner dance in an environment filled with good vibes.
* Also available for private lesson. Send us an email to request information: [email protected]
Follow us on Facebook or Instagram: michaelnellatango
Who we are:
Argentine Tango Dancers, Choreographers and Instructors in Las Vegas, Nevada.
2019 International Tango Summit Professional Champions.
Contact Argentine Tango With Michael & Nella
More Classes Near Here