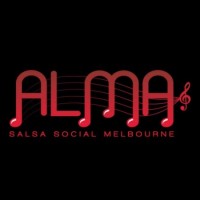 Address
Vodka Temple, Lygon Street, Carlton VIC, Australia
Location:
Melbourne, Australia
Styles Offered
Cuban-Salsa, Mambo, Salsa
More Information

0421316962
Social Media



Class Information
Yo Melbourne what's up!
I'm here to share my love of salsa with you, so whether you're new to dancing on2 or have some experience, I have classes to suit your on2 needs
CLASSES
Intermediate at 7:00PM - $15
Advanced at 8:00PM - $15
Social from 9:30PM - $10
PACKAGES
4 week course - $69 (social included)
8 week course - $99 (social included)
So come join us for an awesome night
Or you can stay home and watch Netflix 😒
If bachata has taken over, let's make salsa great again 💪❤️
Contact Alma Salsa Social
More Classes Near Here
Level 1, 326 Smith Street, Collingwood, Melbourne, Australia, 3065
141 Johnston Street, Fitzroy, Melbourne, Victoria, Australia
Corner of Brighton Road and Chapel Street, St Kilda VIC 3182, Australia
47 Barkly street, St Kilda, Melbourne

Bachata, Cuban-Salsa, Salsa, Samba

Current Classes Melbourne Salsa - The Night Cat - Sundays - Bachata & Salsahttp://melbournesalsa.com.au/classes/bachata-salsa-night-cat/ Melbourne Sals...
327 Whitehorse Rd, Balwyn, Melbourne, Australia, 3103

Salsa, Tango

Rio Dance Studio specialises in teaching adult beginners social dancing through Private and Group class tuition. Your first visit to our studio is a compli...
Level 1, 341 Lygon Street, Carlton, Victoria, Australia

Zouk

DanceIM specialises in Brazilian Zouk, and is owned and directed by internationally known dancer Izzy Washington. We at DanceIM believe that dance has coun...
341 Lygon Street, Carlton, Victoria, Australia

Bachata, Cha-Cha, Cuban-Salsa, Salsa

Come down and enjoy classes in Cuban Salsa (Casino) and other Cuban rhythms like Son and Cha Cha Cha with Maxine and the AContra team. Classes start at 7pm...
Vivaz Dance Shoes
Exclusive Discount
VIEW DEAL
- Get $15 OFF your next purchase
Shipped from Australia. 30 day money-back guarantee.