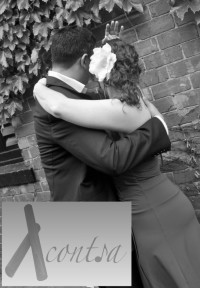 Address
341 Lygon Street, Carlton, Victoria, Australia
Location:
Melbourne, Australia
Styles Offered
Bachata, Cha-Cha, Cuban-Salsa, Salsa
More Information

http://www.acontra.com.au
Social Media


Class Information
Come down and enjoy classes in Cuban Salsa (Casino) and other Cuban rhythms like Son and Cha Cha Cha with Maxine and the AContra team.
Classes start at 7pm at Robles Dance Bar in the heart of Carlton's cosmopolitan backdrop of Lygon Street. Follow up the classes by dancing the night away with social dancing every week. $10 when the band is on or gold coin donation every other week.
7.00pm Beginners
8.00pm Intermediate 2 OR VIP Room: Improvers
9.00pm Advanced OR VIP Room: Intermediate
All classes run for 45 minutes with social dancing in between each session.

Two or more classes - $22
*Beginners class only - $10
Social dancing on band nights - $10
Please enquire for student pricing.
THURSDAYS NIGHTS - 7:00pm – late.
341 Lygon Street Cr Elgin St Carlton, above Intersection Pizza Cafe
Thank you Melbourne Casineros and lovers of dance and live music for your continued support of this event!! It's our pleasure to share the #RuedaLove with you all each and every week!
See you there xx
Book Class
Filter Classes
No class times available.
Contact AContra Casineros
More Classes Near Here
281-283 Swan Street, Richmond, 3121, VIC

Bachata, Salsa, Samba

You're just a couple of steps away (pardon the pun) from your best decision this year ;-) Learn to dance. Make new friends. Join the family. We teach Salsa, Bachata and Brazilian Samba. We teach it right and have been doing so for more than 15 years. But don't just take our word for it... -> https://www.melbournelatindance.com.au/what-our-students-love-about-mld Melbourne Latin Dance. Melbourne's Home of Latin Dance.
19 Brunswick Street Fitzroy

Cuban-Salsa, Kizomba, Salsa

After a well-deserved winter break we are thrilled to be back teaching Cuban Salsa and Kizomba in Melbourne with our exciting brand-new class format, comme...
United Styles, Corner Brighton Road and Chapel Street, St Kilda, 3182

Bachata, Salsa, Samba

Monday nights - 7:30-9:30pm Level 1 & Intermediate Bachata Sensual  Thursday nights - 7:30-9pm 4 week Beginner Bachata course every calendar month P...
Bachata, Salsa, Tango

Wednesday 8 to 9:30 pm: Salsa Los Angeles style. Open levels. Saturday 1 pm:Bachata (Open level) - 2 pm:Salsa Los Angeles style. Open levels. - 3 pm: Tango open level - 4 pm: Tango Intermediate
Vivaz Dance Shoes
Exclusive Discount
VIEW DEAL
- Get $15 OFF your next purchase
Shipped from Australia. 30 day money-back guarantee.