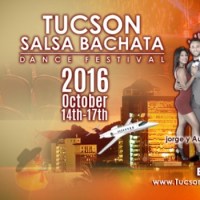 Friday, 14 October 2016
5655 W Valencia Rd, Tucson, AZ 85757
Like it? Share the event.
Contact Information

http://www.tucsonsalsabachatadancefestival.com/

(520) 222-7050
2016 Tucson Salsa Bachata Dance Festival
Last edited: Monday, October 17, 2016
Here is what to expect at the annual TUCSON SALSA BACHATA DANCE FESTIVAL.
The Tucson Salsa Bachata Dance Festival concentrates mainly on Salsa, Bachata and Kizomba, but prides itself on putting together an amazing line-up of performers of all dance backgrounds, elegant social dancing, theme parties, pool parties and more. Join us to experience three straight days of fun, at our specially selected venue and witness the beauty, talent and culture of the Latin dance community.
.
VENUE & BOOKING INFO:
We have put together the best entertainment, Theme Parties, Social Dancing, Shows, Performances, Workshops and Specialty Bootcamps, with world class dancers, DJs, instructors and performers.
What to expect?
- A dedicated Salsa room
- A dedicated Bachata room
- A dedicated Kizomba room
- 5 Theme Parties, 3 Pool Parties
- 10 World Class DJs, spinning the best Salsa, Bachata and Kizomba
- 800 +/- Sexy Dancers from all over the world
- Shinny seamless dance floor
- High Tech sound and lights
- Sectioned VIP – Group, Couple and Individual options – Speedy check-ins
- Red Carpet treatment with complementary professional photo for all attendees
- Event Brochures at entrance
- Vendors table with top services
- In-house Dinning – Continental Breakfast, Health Lunch and Dinner
- Professional Videographers/Photographer to capture your best moments
- Free parking with additional section available
- No Resort Fee
- Free Internet at the venue
- Bar with refreshment and special drinks
- Water stations ALL 3 DANCE ROOMS
✔3 DAYS OF PURE FUN
✔4 SPECIALTY DANCE BOOTCAMPS
✔5 THEME PARTIES
✔26 + HRS OF SOCIAL DANCING
✔40 + HRS OF WORKSHOPS
✔60 + CONFIRMED PERFORMERS
SCHEDULE:
Click here for the most accurate schedule:
FRIDAY
11am to 12am – Registration
12pm to 4pm – Workshops
2pm to 6pm – Pool Theme Party/Social Dancing
6pm to 7pm – Tech Rehearsal
8:30pm to 9:30pm – Registration
9:30pm to 10:30pm – Show/Performances
10:30pm to 11pm – Set-up
11pm to 5am – Theme Party/Social Dancing, Salsa Room, Bachata Room, Kizomba Room
SATURDAY
9am to 10am – Registration
10am to 4pm – Workshops
2pm to 6pm – Pool Party/Social Dancing
6pm to 7pm – Tech Rehearsal
8:30pm to 9:30pm – Registration
9:30pm to 10:30pm – Show/Performances
10:30pm to 11pm – Set-up
11pm to 5am – Theme Party/Social Dancing, Salsa Room, Bachata Room, Kizomba Room
SUNDAY
9am to 10am – Registration
10am to 4pm – Workshops
2pm to 6pm – Pool Party/Social Dancing
6pm to 7pm – Tech Rehearsal
8:30pm to 9:30pm – Registration
9:30pm to 10:30pm – Show/Performances
10:30pm to 11pm – Set-up
11pm to 5am – Theme Party/Social Dancing, Salsa Room, Bachata Room, Kizomba Room
TRANSPORATION:
Phoenix International Airport/Tucson International Airport is the most convenient location for attendees of the Arizona Dance Addiction/Tucson Salsa Bachata Dance Festival.
- Airport Shuttle, every half-hour and on-call for only $10.00 dial (520) 222-7050
- Taxi ride will cost about $20 (about 10minutes)
RESERVE YOUR ROOM NOW!
GET YOUR FULL PASS TODAY!
Last year we were sold out by July.
Prices are going up soon!
The full pass offers the best value and includes:
- Access to all Specialty Workshops
- Access to all Social Dancing – Theme Parties
- Access to all Pool Parties
*** BUY YOUR FULL PASS click here www.TucsonSalsaBachataDanceFestival.com
Ask a question about this festival
More Festivals Near Here
Friday, 28 April 2017

Location:

San Francisco, USA

Allegro, 5855 Christie Ave, Emeryville, CA, United States, 94608
Thursday, 04 May 2017

Hyatt Regency Orlando, 9801 International Dr, Orlando, FL, United States, 32819
Thursday, 04 May 2017

Location:

Los Angeles, USA

The Queen Mary, 1126 Queens Hwy, Long Beach, CA, United States, 90802
Thursday, 04 May 2017

Bally's Las Vegas, 3645 Las Vegas Blvd S, Las Vegas, NV, United States, 89109