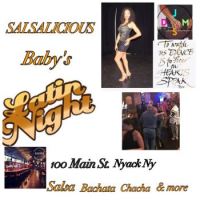 Wednesday weekly
Karma - Restaurant, Bar, Lounge - Nyack, NY, 100 Main St, Nyack, NY, United States, 10960
Location:
New York City, USA
Like it? Share the event.
#SALSALICIOUS Baby's Latin Wednesday and beyond
WEDSNESDAY IS LATIN NIGHT @ KARMA
HOSTED & LESSON BY KAREN
100 MAIN STEET, NYACK, NY
8-11PM
#SALSALICIOUS Baby!!! We'll be dancing the night away to Salsa, Cha Cha, Bachata and Merengue. Enjoy a dance and/or have drinks, dinner all the while hanging with new or past friends (this group is filled with such wonderful people)...just the right thing to get you to the weekend.
There are plenty of friendly people who dance ALL STYLES OF SALSA, but NY Club Style is the class I teach for beginners!!!
Couples and singles are welcome.
THIS IS A NO COVER EVENT, HOWEVER WE WOULD ASK THAT YOU SUPPORT KARMA AT THE BAR OR RESTAURANT!!!
We look forward to you joining us for this very special WEDNESDAY NIGHT WEEKLY EVENT!!
WANT TO LEARN HOW TO DANCE SALSA?
CHECK OUT MY OTHER GROUP CLASSES......
@ Powerhouse Dance Center (West Haverstraw):
Thursdays - 6:30-7:30pm -
NY Club Style Salsa (beginners - advanced beginners)
Class Prices: drop ins $15, $12 a class monthly package, $10 classes w/ 2 month package
71 South Route 9W (mall: AutoZone, Taco Bell & Wendy's)
West Haverstraw, NY
West Gate Lounge - Saturday Night Salsa! join me and the featured band/DJ for a night of lessons and dancing. FREE Lessons are 8:20-9:20pm. Look for the entry cost on the #SALSALICIOUS Baby Facebook page.
American Legion Hall, 85 Piermont Ave Nyack:
AVAILABLE FOR PRIVATE INSTRUCTION ONLY
Want to learn more than Salsa, my team of dancers are available for:
private lessons/events/weddings
email me here for more details
Your Instructor,
Karen Funfabfit Salsa
Last edited: Thursday, January 19, 2017
More Events Near Here
Tuesday, 24 January 2017

BACHATuesdays, 324 Spring St, New York, NY, United States, 10013
Tuesday, 24 January 2017

The Copacabana Times Square
Wednesday, 25 January 2017

Gonzalez y Gonzalez, 192 Mercer St, New York, NY, United States, 10012
Thursday, 26 January 2017

Cache Salsa Thursdays, 237 West 42nd Street, New York, NY, United States, 10004
Classes Near Here
1261 Broadway, Suite 309, New York, NY 10001
| | |
| --- | --- |
| | 670 Grand St, Williamsburg, NY 11211 |
126 East 13th Street, New York, NY, United States
Salsa
Whether you're learning your first basic or have been burning up the dance floor for years, we have something for you. Our dancers are amongst the worldâ...
146 South Liberty Drive, Suite 16T, Stony Point, NY

Salsa

Thursday 7pm Thursdays @ The Studio Event and Dance Center (Colonial Plaza 146 South Liberty Drive, Suite 16T, Stony Point, NY). Beginner to advanced begi...
Festivals Near Here
No listings found