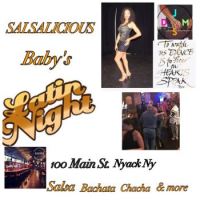 Wednesday weekly
Karma - Restaurant, Bar, Lounge - Nyack, NY, 100 Main St, Nyack, NY, United States, 10960
Location:
New York City, USA
Like it? Share the event.
#SALSALICIOUS Baby's Latin Wednesday and beyond
WEDSNESDAY IS LATIN NIGHT @ KARMA
HOSTED & LESSON BY KAREN
100 MAIN STEET, NYACK, NY
8-11PM
#SALSALICIOUS Baby!!! We'll be dancing the night away to Salsa, Cha Cha, Bachata and Merengue. Enjoy a dance and/or have drinks, dinner all the while hanging with new or past friends (this group is filled with such wonderful people)...just the right thing to get you to the weekend.
There are plenty of friendly people who dance ALL STYLES OF SALSA, but NY Club Style is the class I teach for beginners!!!
Couples and singles are welcome.
THIS IS A NO COVER EVENT, HOWEVER WE WOULD ASK THAT YOU SUPPORT KARMA AT THE BAR OR RESTAURANT!!!
We look forward to you joining us for this very special WEDNESDAY NIGHT WEEKLY EVENT!!
WANT TO LEARN HOW TO DANCE SALSA?
CHECK OUT MY OTHER GROUP CLASSES......
@ Powerhouse Dance Center (West Haverstraw):
Thursdays - 6:30-7:30pm -
NY Club Style Salsa (beginners - advanced beginners)
Class Prices: drop ins $15, $12 a class monthly package, $10 classes w/ 2 month package
71 South Route 9W (mall: AutoZone, Taco Bell & Wendy's)
West Haverstraw, NY
West Gate Lounge - Saturday Night Salsa! join me and the featured band/DJ for a night of lessons and dancing. FREE Lessons are 8:20-9:20pm. Look for the entry cost on the #SALSALICIOUS Baby Facebook page.
American Legion Hall, 85 Piermont Ave Nyack:
AVAILABLE FOR PRIVATE INSTRUCTION ONLY
Want to learn more than Salsa, my team of dancers are available for:
private lessons/events/weddings
email me here for more details
Your Instructor,
Karen Funfabfit Salsa
Last edited: Thursday, January 19, 2017
More Events Near Here
Tuesday, 21 February 2017

Salsa On2'sdays, 63 Gansevoort Street, New York, NY, United States, 10014
Wednesday, 22 February 2017

Havana Central, 630 Old Country Rd, Garden City, NY, United States, 11530
Wednesday, 22 February 2017

Fuákata - Cuban Salsa NY, 25 West 31st St B/T Bdwy & 5th Ave, 2nd Floor, New York, NY, United States, 10001
Thursday, 23 February 2017

DanceSport, 22 W 34th St NYC - 4th Floor (Bet 5th & 6th Ave) EAST ENTRANCE, New York, NY, United States, 10001
Classes Near Here
412 Eighth Ave, 4th Fl, New York, NY 10001, United States
519 8th Ave 12th floor, New York City
131 West 35th street 5th floor, New York, NY 10001
2153 Second Avenue, New York, NY 10029
Festivals Near Here
Thursday, 31 August 2017

Location:

New York City, USA

New York Marriott Marquis, 1535 Broadway, New York, NY, US