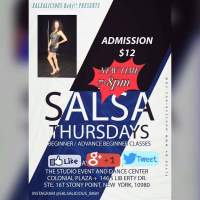 Address
146 South Liberty Drive, Suite 16T, Stony Point, NY
Location:
New York City, USA
Contact Information
Social Media

Styles Offered
Salsa
Class Information
Thursday
7pm Thursdays @ The Studio Event and Dance Center (Colonial Plaza 146 South Liberty Drive, Suite 16T, Stony Point, NY). Beginner to advanced beginner salsa lesson.
Sunday
SALSALICIOUS Baby!!! @ DanceAttitude every Sunday 4-5:30pm (yes that's right you'll get an hour + 1/2 hour to practice). Get your salsa on!!!
More Classes Near Here
3009 Avenue J, Brooklyn, NY, United States

Salsa

Salsa classes in Brooklyn at Dance Fever Studios. No partner or experience needed.
159 20th Street, Brooklyn, NY 11232, United States

Bachata, Cha-Cha, Cuban-Salsa, Salsa, Samba

Salsa dance classes and Latin dance classes NYC at Dance Fever Studios for FREE on Saturday nights at our open house.
500 8th Avenue, New York, NY 10018

Bachata, Cuban-Salsa, Mambo, Salsa

BeSalsa was created to give people the opportunity in building great social networks through dance and learning to just BE yourself in a world where we'r...
412 Eighth Ave, 4th Fl, New York, NY 10001, United States