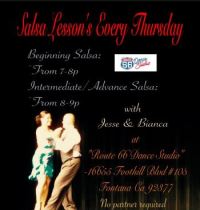 Address
16655 Foothill Blvd #103 Fontana Ca
Location:
Los Angeles, USA
Contact Information
Social Media


Styles Offered
Bachata, Cha-Cha, Salsa
Class Information
GROUP LESSONS in FONTANA
**NEW STUDIO!!**
Classes STARTING ON JULY 14th! EVERY THURSDAY in FONTANA. Great rates & deals!
~SALSA LESSONS in FONTANA~
Location:
"Route 66 Dance Studio"
16655 Foothill Blvd #103
Fontana Ca
Time:
-Beg Salsa: 7-8pm
-Int/Adv Salsa: 8-9pm
Rate:
-$12 for a single 1hr class (drop in rate)
-*$40 for 4/1hr grp lessons
(Pre-paid punch card)
-$18 for 2 hr class (drop in rate)
-*$65 for 4/2hr grp lessons
(Pre-paid punch card)
**Prepaid Classes MUST be redeemed within 2 Months from Purchase***
If you have any questions, interested in purchasing dance shoes or would like to inquire about Private Lessons just send me a message or call/txt me direct @ ‪951-202-4461‬ See you soon!!
Ask a question about this class
More Classes Near Here
4220 Scott Drive, Newport Beach, CA, United States
Salsa
Enjoy dancing SALSA in a friendly and not intimidating atmosphere where you are going to meet new friends and fun takes place! Dance to DJ Rodrigo "El Colo...
3000 W Edinger Ave, Santa Ana, CA, United States

Cuban-Salsa

Come join us in beautiful Centennial Regional Park for Rueda de Casino! (Salsa Cubana) Enjoy the scenery, the music and the fun as you learn this Cuban soc...
1200 E California Blvd, Pasadena, CA 91125, United States
Bachata, Salsa
When: Every Thursday 7-8 pm Salsa (all levels) 8-9 pm Bachata (all levels) Where: South Catalina Recreation Room Who: Free for everyone! Drop ins welcome! ...
3330 Civic Center Drive, Torrance, CA, 90503

Salsa

Salsa dance classes for beginners and advanced dancers. No partner required.