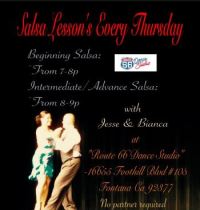 Address
16655 Foothill Blvd #103 Fontana Ca
Location:
Los Angeles, USA
Styles Offered
Bachata, Cha-Cha, Salsa
Class Information
GROUP LESSONS in FONTANA
**NEW STUDIO!!**
Classes STARTING ON JULY 14th! EVERY THURSDAY in FONTANA. Great rates & deals!
~SALSA LESSONS in FONTANA~
Location:
"Route 66 Dance Studio"
16655 Foothill Blvd #103
Fontana Ca
Time:
-Beg Salsa: 7-8pm
-Int/Adv Salsa: 8-9pm
Rate:
-$12 for a single 1hr class (drop in rate)
-*$40 for 4/1hr grp lessons
(Pre-paid punch card)
-$18 for 2 hr class (drop in rate)
-*$65 for 4/2hr grp lessons
(Pre-paid punch card)
**Prepaid Classes MUST be redeemed within 2 Months from Purchase***
If you have any questions, interested in purchasing dance shoes or would like to inquire about Private Lessons just send me a message or call/txt me direct @ ‪951-202-4461‬ See you soon!!
Contact School
More Information
Social Media


More Classes Near Here
8558 West 3rd Street, Los Angeles, CA, United States

Bachata, Cha-Cha, Cuban-Salsa, Kizomba, Mambo, Salsa, Samba, Tango, Zouk

3rd Street Dance has been teaching Los Angeles to dance for over 35 years. We offer a comprehensive dance curriculum for adults in all styles of social dan...
1218 Irvine Boulevard, Tustin, CA, United States
Salsa
We will teach you practical and learnable patterns focusing on individual footwork as well as leading and following techniques --TIME: 7:30-8:30pm Beg &amp...
4220 Scott Drive, Newport Beach, CA, United States
Salsa
Enjoy dancing SALSA in a friendly and not intimidating atmosphere where you are going to meet new friends and fun takes place! Dance to DJ Rodrigo "El Colo...
3000 W Edinger Ave, Santa Ana, CA, United States

Cuban-Salsa

Come join us in beautiful Centennial Regional Park for Rueda de Casino! (Salsa Cubana) Enjoy the scenery, the music and the fun as you learn this Cuban soc...