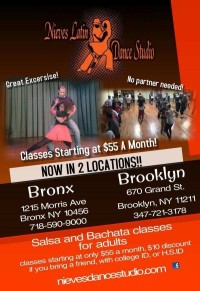 Address
670 Grand St, Williamsburg, NY 11211
Location:
New York City, USA
Contact Information

http://nievesdancestudio.com/
More Classes Near Here
252 W 30th St, New York, NY, United States

Bachata, Cha-Cha, Salsa

Elvis Collado Dance Center is one of NY's newest and hottest dance programs that's taking the city by storm. Our mission is to provide the highest quality ...
405 West 55th street, NY, NY 10019
Salsa
Whether you're learning your first basic or have been burning up the dance floor for years, we have something for you. Our dancers are amongst the worldâ...
3009 Avenue J, Brooklyn, NY, United States

Salsa

Salsa classes in Brooklyn at Dance Fever Studios. No partner or experience needed.
159 20th Street, Brooklyn, NY 11232, United States

Bachata, Cha-Cha, Cuban-Salsa, Salsa, Samba

Salsa dance classes and Latin dance classes NYC at Dance Fever Studios for FREE on Saturday nights at our open house.