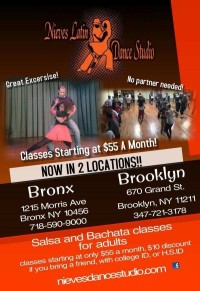 Address
670 Grand St, Williamsburg, NY 11211
Location:
New York City, USA
Contact Information

http://nievesdancestudio.com/
Ask a question about this class
More Classes Near Here
405 West 55th street, NY, NY 10019
Salsa
Whether you're learning your first basic or have been burning up the dance floor for years, we have something for you. Our dancers are amongst the worldâ...
3009 Avenue J, Brooklyn, NY, United States

Salsa

Salsa classes in Brooklyn at Dance Fever Studios. No partner or experience needed.
159 20th Street, Brooklyn, NY 11232, United States

Bachata, Cha-Cha, Cuban-Salsa, Salsa

Salsa Dance Classes in Brooklyn at Dance Fever Studios for FREE on Saturday nights.
500 8th Avenue, New York, NY 10018

Bachata, Cuban-Salsa, Mambo, Salsa

BeSalsa was created to give people the opportunity in building great social networks through dance and learning to just BE yourself in a world where we'r...