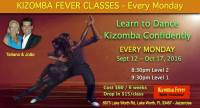 Address
6675 Lake Worth Rd, Lake Worth, Florida 33467
Contact Information

(561) 204-5393
Social Media

Styles Offered
Kizomba
Class Information
New Cycle Starting!
Sept 12 - Oct 17, 2016 (6 weeks) - Monday
LEVEL 2 at 8:30-9:30pm
LEVEL 1 at 9:30-10:30pm
Cost: $60 / 6 weeks
Drop in: $15/class
(cash only)
*************************************************************************
LEVEL 1 - BEGINNER (9:30-10:30pm)
Open to EVERYONE! No experience necessary
✔︎ Want to LEARN HOW TO DANCE KIZOMBA
✔︎ Want to DEEPEN your BEGINNER LEVEL SKILLS
✔︎ Missed our BEGINNER WORKSHOP
You will learn:
1) The Basic Kizomba Steps (Basic 1, Basic 2, Basic 3)
2) The Kizomba Walk
3) Basic Kizomba Body Movement
4) Basic Kizomba Timing
5) The Kizomba Embrace
6) Kizomba Choreography (Beginner Level)
7) and more...
*************************************************************************
LEVEL 2 - IMPROVER (8:30-9:30pm)
Open to BEGINNER LEVEL AND ABOVE
***INSTRUCTOR approval is REQUIRED***
✔︎ Want to BUILD UPON your BEGINNER LEVEL SKILLS
✔︎ Want to DEEPEN your IMPROVER LEVEL SKILLS
✔︎ Missed our IMPROVER WORKSHOP
You will learn:
1) The Basic Saidas
2) Saida Variations
3) Styling Options
4) Intention and Anticipation
5) Lead and Follow Techniques
6) Kizomba Choreography (Improver Level)
7) Kizomba Musicality
8) Kizomba Pattern Development (how to build upon each step)
9) and more...
You should already be comfortable with BEGINNER LEVEL 1:
1) The Basic Kizomba Steps (Basic 1, Basic 2, Basic 3)
2) The Kizomba Walk
3) Basic Kizomba Body Movement
4) Basic Kizomba Timing
5) The Kizomba Embrace
*************************************************************************
No partner is needed, but we encourage EVERYONE to bring a male dance friend so there will be a more equal male : female ratio. We rotate partners frequently during the workshop
NOTE:
● To join our 6 week Kizomba Progressive Course, you must attend the first class of the cycle
● All the techniques and exercises taught over 6 classes build on the knowledge from the previous week
● No make ups, refunds or transfers
● Can't make it on Mondays, then join our KIZOMBA BEGINNER (Level I) WORKSHOP instead on Sept 11, 2016 from 3-6pm in Oakland Park, FL
https://www.facebook.com/events/966568020126833/
● Can't make it on Mondays, then join our KIZOMBA IMPROVER (Level 2) WORKSHOP instead on Oct 9, 2016 from 3-6pm in Oakland Park, FL
https://www.facebook.com/events/1609244052719952/
● It is recommended to complete our 6 WEEK KIZOMBA BEGINNER COURSE (Level 1) and/or our KIZOMBA BEGINNER WORKSHOP (Level I) at least 1-2 times before scheduling your test out to join our 6 WEEK KIZOMBA IMPROVER COURSE (Level 2) or our KIZOMBA IMPROVER WORKSHOP (Level 2)
● A GREAT WAY to speed up your learning process is to schedule PRIVATE LESSONS with us!! Call us directly at (561) 204-5393
To truly enjoy this popular and sensual dance, it is important to master the fundamental steps and the unique techniques of lead/follow, connection, pivots, saidas, body movement and timing.
We want you to graduate this course and able to CONFIDENTLY DANCE KIZOMBA socially.
If you any questions, just call us at (561) 204-5393
More Classes Near Here
501 Lincoln Road, Miami Beach, FL, United States

Bachata, Salsa

Want to learn how to Salsa? Join us at Salsa Fever! The best place to learn how to dance Salsa in Miami. Our classes are every Wednesday and Friday startin...
1405 Southwest 107 Avenue, Miami, FL, United States

Bachata, Cha-Cha, Cuban-Salsa, Kizomba, Mambo, Salsa

Salsa Lovers is one of Miami's first dance studios to offer Salsa classes in a structured, easy to understand level system that simplifies the learning pro...
16117 Biscayne Blvd, North Miami, FL United States 33160
Bachata, Salsa
UV Latin Dance Academy offers the best in Salsa and Bachata instruction from World Champion dancers Uriel Garcia and Vera Rowe. The dance academy is a prog...
930 Washington ave suite 211 Miami Beach

Bachata, Cuban-Salsa, Mambo, Salsa

Salsa Central offers Salsa and Bachata group and private classes, every day of the week, from beginner level all the way to advance. Salsa Central Studi...